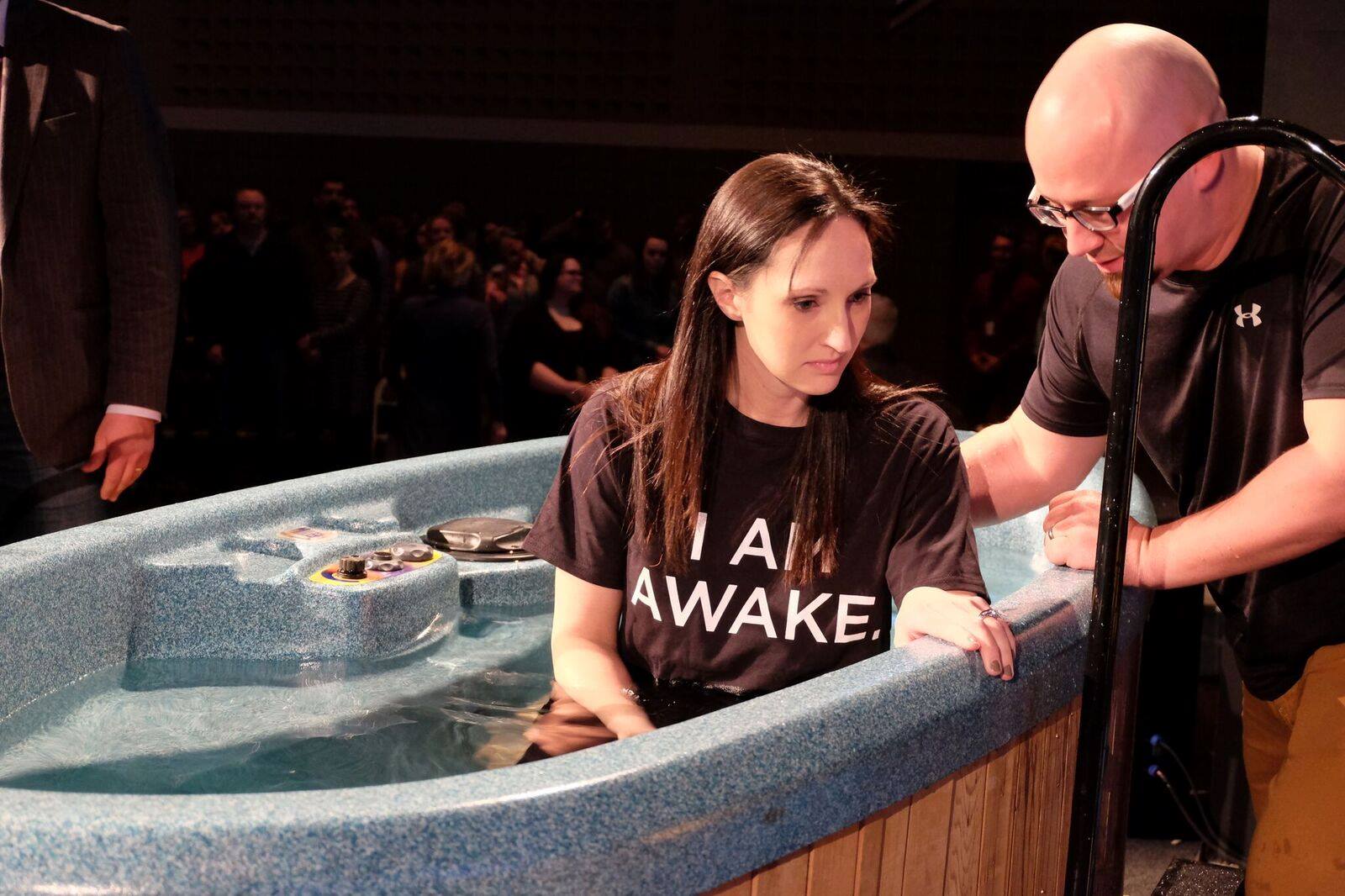 Ashley Riibe determined she was going to say yes to God in 2018.
She said yes on Easter morning when she was prompted to get baptized.
She said yes when her 10-year-old dream of singing on a worship team was presented to her.
She said yes when the opportunity to sign up for the Transformation of the Heart group experience at Community Church arose.
"I'm not usually a resolution person," Ashley said. "But I said I want to make this year mean something."
Ashley said overcoming some of her fears was the first step in allowing God to work in her life.
"I had been very fearful to do baptism," she said. "I kept telling myself before I got baptized that I should be in a Bible study group or be better at reading my Bible so that when I have this outward profession of faith I have something for people to see. I had a constant fear of not being good enough. How backward that is.
"This was not about me, or needing to be perfect. It's quite the opposite. It was about me saying God's grace is sufficient where you are."
So on Easter morning Ashley brought a change of clothes but didn't tell anyone about her plan to get baptized. She said she wouldn't have gone forward if God hadn't called her in that moment.
"I was nervous," she said. "When that moment came in the service, I leaned over to my husband and said 'I'm supposed to go.' I just went. It was an out of body experience."
Since getting baptized in April Ashley said she has been living more intentionally, which means making Jesus part of her everyday life.
"It's being more open to say yes to what he has put in front of me," she said.
Ashley has a message for anyone considering getting baptized: "If you really believe what the Bible says, stop questioning and just do it."
Shortly after getting baptized Ashley decided it was time to join the worship team at Community Church. "It took me a long time to be willing to go and do that," she said.
"I finally feel I'm using the gifts God gave me to give back to him. I don't think there's a lot of places more vulnerable than worshipping where other people can see it. It was very humbling to be in that position."
Ashley grew up attending church regularly but it wasn't until later in life that she discovered she had to make her faith her own — that it wasn't something she could inherit from her parents.
"I never read the Bible before I went to college and found God for myself," she said.
Ashley experienced a moment at college when God became real in her life. She was attending a praise and worship night and for the first time saw people her age energized by their faith. "This is what I've been wanting," Ashley thought. "God was shaping me. His journey was for me to find a closer relationship with him."
At the start of her sophomore year Ashley wanted to push pause on the dating scene and made a proclamation. "This is the year I want to date God," she determined.
Within two months Ashley said she was introduced to Larry, the man who would become her husband. While hesitant at first to go back on her proclamation, Ashley said her mom gave her some sage advice by suggesting that perhaps God had prepared her for this relationship.
Ashley and Larry got engaged five months later and were married within a year. "It was a whirlwind," she said. "My story changed."
They have been married for 12 years and have two children: Sloan (8) and Tate (4).
Against Ashley's initial wishes, the couple moved to Green Bay from Sioux Falls, South Dakota, three years ago to take over a Complete Nutrition business.
"I said no to Green Bay at first," Ashley said. "We drove out here in February. Neither of us had ever been here before. We went and looked at (our potential) store. We went to Lambeau for a tour on the coldest day of year. The wind chill was negative 30."
Despite the brutal weather, Ashley said something about moving to Green Bay felt compelling.
"I didn't want to move, but once we were here I said I can't fight the fact that this feels right and good," she said. "I don't have any regrets, even though there have been hard lessons learned."
They moved farther away from their families, and the business has been challenging at times. And yet the move has drawn them closer together.
"I felt more integrated here than I ever did where we came from," she said. "It caused us to lean on each other. It made us join forces and figure out how to make this crazy thing work."
Larry has continued running the business, while Ashley has transitioned to working on the leadership team at Keller Williams.
They have been attending Community Church since 2016. "We came here one weekend and never stopped coming," Ashley said. "For the first time I felt like this was the place God intended us to be. I resonated with the way they worship here. We have a contemporary way to worship but it's not a performance."
She also likes growing in her faith. "The messages that Troy teaches are challenging me," she said.
Ashley said she tries to lead with her faith rather than make it something she falls back on.
"I want to show my kids that when Mom is scared she prays," Ashley said. "When Mom is happy she prays. I try to pray with them when they go to school. I'm doing things that teach my kids that there is nothing I do during the day that is not important to God.
"I'm just trying to create space in our home that this is a place where we turn to God. He doesn't give us anything we want. He's not a genie in a bottle. When I'm crying or sad about something, they see that I'm still going to turn to God. I don't want them to have unrealistic expectations when they grow up."