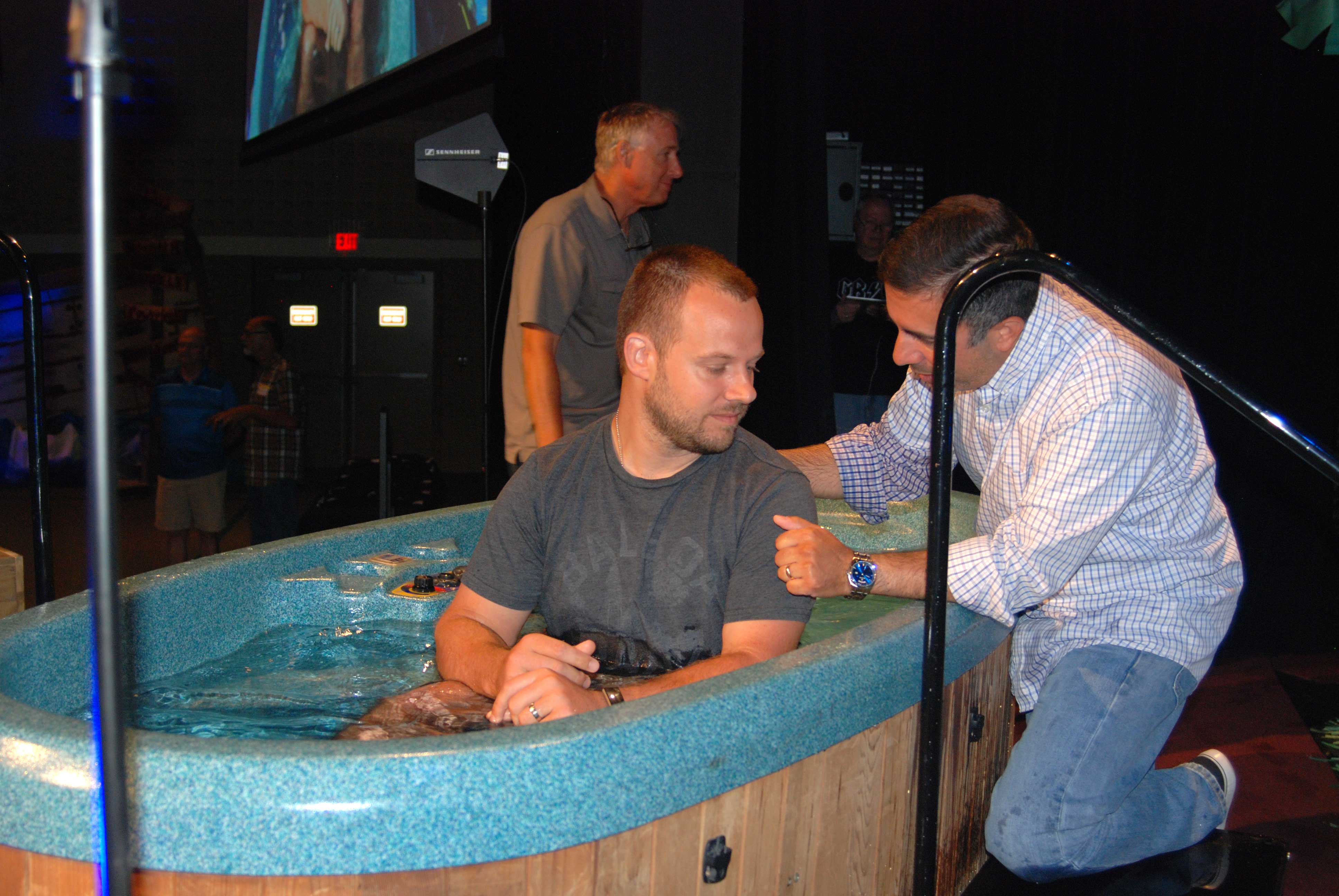 Chad Hendricks had grown weary of shallow conversations with friends. There was a longing in his heart to have real relationships.
So he decided to stop attending his annual camping trip to the Boundary Waters with a group of friends. And he was honest with them about why.
"I don't want to come," Chad told his buddies. "I don't want to do this anymore. If it's just sarcasm and giving each other crap all the time, I don't want to come.
"I want to talk about what we are struggling with, what it means to be a good husband and parent."
In other words, Chad wanted to get real with his friends and not keep conversations at a surface level. To his surprise, his friends wanted the same thing, which has led to much more meaningful relationships as talk centers around things that matter in life.
Chad has taken other bold steps of faith recently. He came forward to get baptized at Community Church last June, went on a Wild at Heart outdoor retreat in Colorado last May and followed up by leading a local men's retreat last summer.
Chad has taken on a new motto: "If we're going to be friends, let's have real friendships. I want to have strong friendships and have personal conversations about what is going on."
Chad had considered getting baptized sooner but felt he wasn't ready. Chad had encouraged his wife, Shelly, to get baptized on Easter Sunday in April, so when baptisms were offered again at GBCC in June he figured it was time for him to step up.
The focus of the Colorado retreat that Chad attended was on spiritual armor and warfare. When the message at GBCC on Baptism Sunday in June was also on spiritual warfare, Chad knew he needed to come forward.
"I was like, 'It's got to be one of those signs to say wake up Chad,'" he said.
Chad is carrying deeper conversations to the business he and his wife operate — Brand Outcomes, an advertising and marketing agency.
He recently was up front with a new employee by telling him: "I need you to know our company values having meaningful conversations. If there is something you are struggling with, those are OK to talk about."
That immediately prompted the new hire to share a personal struggle he was going through.
Chad believes deeper conversations also must take place in spiritual settings. He and his wife were part of a Bible study but the discussions only scratched the surface.
"I felt disconnected," Chad said. "It was just a Bible study and not people sharing what was going on."
By contrast, the Wild at Heart retreats provided a setting where deep sharing could take place. Chad has established some strong relationships with the men on those retreats and even invited some to start attending GBCC.
The key to deeper relationships is giving people permission to share openly, even when the conversations get difficult.
Chad said he has gone through extensive counseling over the last five years, including with his wife, and although it was hard at times the reward has been great. "We work together," he said. "It's fantastic."
Chad grew up going to church and attending Sunday school and confirmation classes. But in high school, after his parents split, the family stopped attending church.
Growing up in De Pere, Chad considered himself "always optimistic, a happy-go-lucky person." But in looking back he said his attempts to be happy also served as a coping mechanism when things got difficult.
Chad resumed going to church when he attended UW-Eau Claire, where he met his wife. After graduation they settled in the Green Bay area, where they are raising three children — Anna, Kate and Benny.
They were on-and-off church attenders before coming to GBCC about six years ago, but Chad admits he didn't feel overly connected at first. His spiritual life received a needed boost at the Colorado retreat.
"That changed a lot of things for me," he said. "It was very powerful, very impactful. At the end of it they said, 'We have all the resources available if you want to host your own retreat.' I said 'I want to do that.'"
That retreat in Wisconsin in the summer provided more opportunities for deeper relationships. "All of a sudden the retreat conversations led to the door opening for more conversations with people at church," said Chad, who plans to organize another retreat next year.
Chad witnessed the retreat providing a fertile environment where God could move in people's hearts. Men were discussing their struggles with addiction, marriage problems and father issues.
Chad stayed connected with follow-up phone calls and emails with retreat participants. One man thanked Chad for encouraging him to start reading the Bible.
Chad gets encouragement from James 5:16, which says: Therefore confess your sins to each other and pray for each other so that you may be healed.
"If there was a theme about being honest and opening up to people, that's the verse," said Chad. "Thats what's happening on the retreats.
"There's a lot of good things that have come out of it. … If everybody was able to go to a weekend retreat once or twice a year, how much growth there would be because you have extended time and multiple days to work on things. It's had an impact on everybody I've met. It would be impactful for more people to do."
All the while Chad said he has been growing in his faith, learning principles about giving, growing and connecting with God.
One principle that stuck involves spiritual warfare.
"I have always worried about diving into (spiritual matters) and then falling off," Chad said. "How do I stop that from happening? I bought a cross necklace so every morning was a reminder for me to pray. My first prayer was asking for the armor of God. For whatever reason that was powerful."
An important life lesson Chad learned during a two-year teaching stint at Bay Port was that people won't change unless there's some type of tension. "You've got to let people be uncomfortable," he said.
Chad now looks for wisdom in situations that crop up daily, and takes his concerns and cares to God in prayer. When anxiety rises over work-related stress, Chad has learned to trust God.
"As soon as I started praying about it — 'God, what am I supposed to learn about this?' — my anxiety started to lower right after that," Chad said. "As soon as I started trusting I felt calmer."
In Chad's quest to establish deeper relationships with people, he has also done the same with God. He cherishes his friendship with Jesus.
"I'm getting used to the idea of expressing how I'm feeling in prayer to God," Chad said. "If I'm feeling stressed, I have a conversation with God and it's very poignant. That's happening more often.
"When I'm talking about having deeper conversations with people, in that journey I'm also having deeper conversations with God."