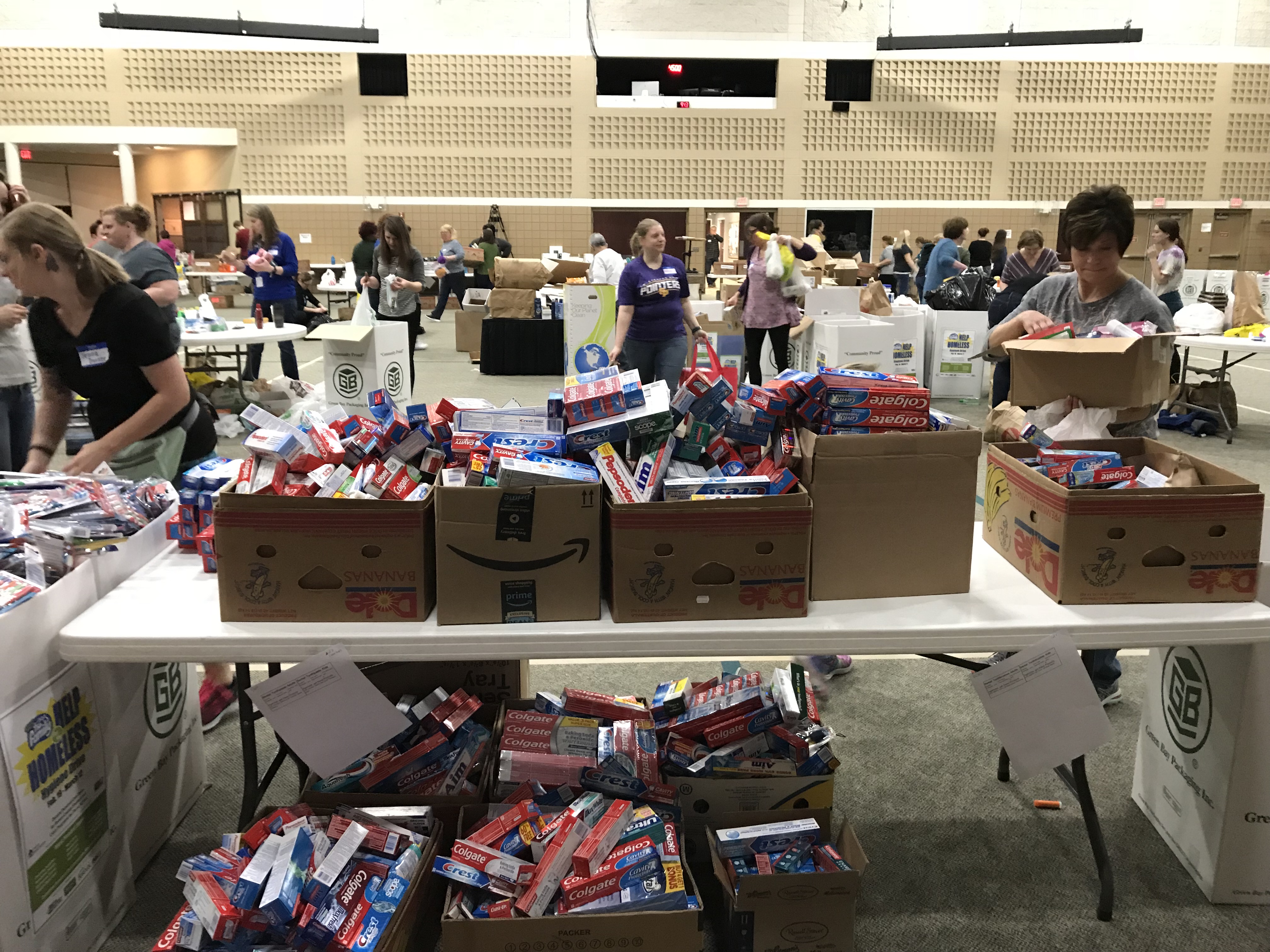 Nearly 80 volunteers from around the area gathered in the Green Bay Community Church auditorium on Thursday, March 15 to lend their time to the annual Help for the Homeless Hygiene Drive.
Hygiene products collected from 111 area drop-off sites were sorted, counted and distributed to 14 different Green Bay social service agencies. Ultimately, the homeless or others who don't have the resources to buy those products will benefit.
"We are so grateful for Green Bay Community Church and their participation and all the accommodations that are made for us," said Nan Pahl, the Brown County coordinator for the Hygiene Drive who is director of social services for the local Salvation Army. "As this drive has gotten bigger we have outgrown the previous church that it was held in. GBCC has stepped up. It's amazing. We fill the auditorium and we take pretty much every inch of space.
"If we didn't have this space I'm not sure where we would be doing it because the drive has gotten so large. It's awesome."
Many of the items sorted and distributed at the drive, such as laundry detergent, soap, toilet paper, cleaners and deodorant, are taken for granted by many people, but not for those who receive it. "Those are things that are really looked at as luxury items," Nan said.
In February 2018 there were 216 homeless families in Brown County, including more than 800 kids in the Green Bay area public schools.
"All of are working for the same cause," Nan said. "We want to work to eventually end homelessness in our community.
"The drive is really about getting things to people in need…Our mission is to help those walk that path to greater self-sufficiency."
Jen Schmohe, who oversees the anti-poverty Circles program at Community Church, hopes an event like the Hygiene Drive will lead to bigger and better things.
"One thing I hope out of this is that it will help stimulate bigger conversations around getting at the root causes of poverty," Jen said.
"People need to be aware how hard it is to live in poverty and to understand the consequences in our community if we allow poverty to persist and we don't address it."
Here is a list of the community agencies that serve as Hygiene Drive partners:
Brown County Human Services
Family Services Crisis Center / Open Door Youth Services
Family Services Transitional Living
Freedom House
Green Bay Area Public Schools x
Golden House
House of Hope
NEWCAP
St. John's Homeless Shelter
St. Vincent DePaul
Salvation Army Basic Needs
Salvation Army Transitional Housing Program (THP)
Transformation House
Wellspring