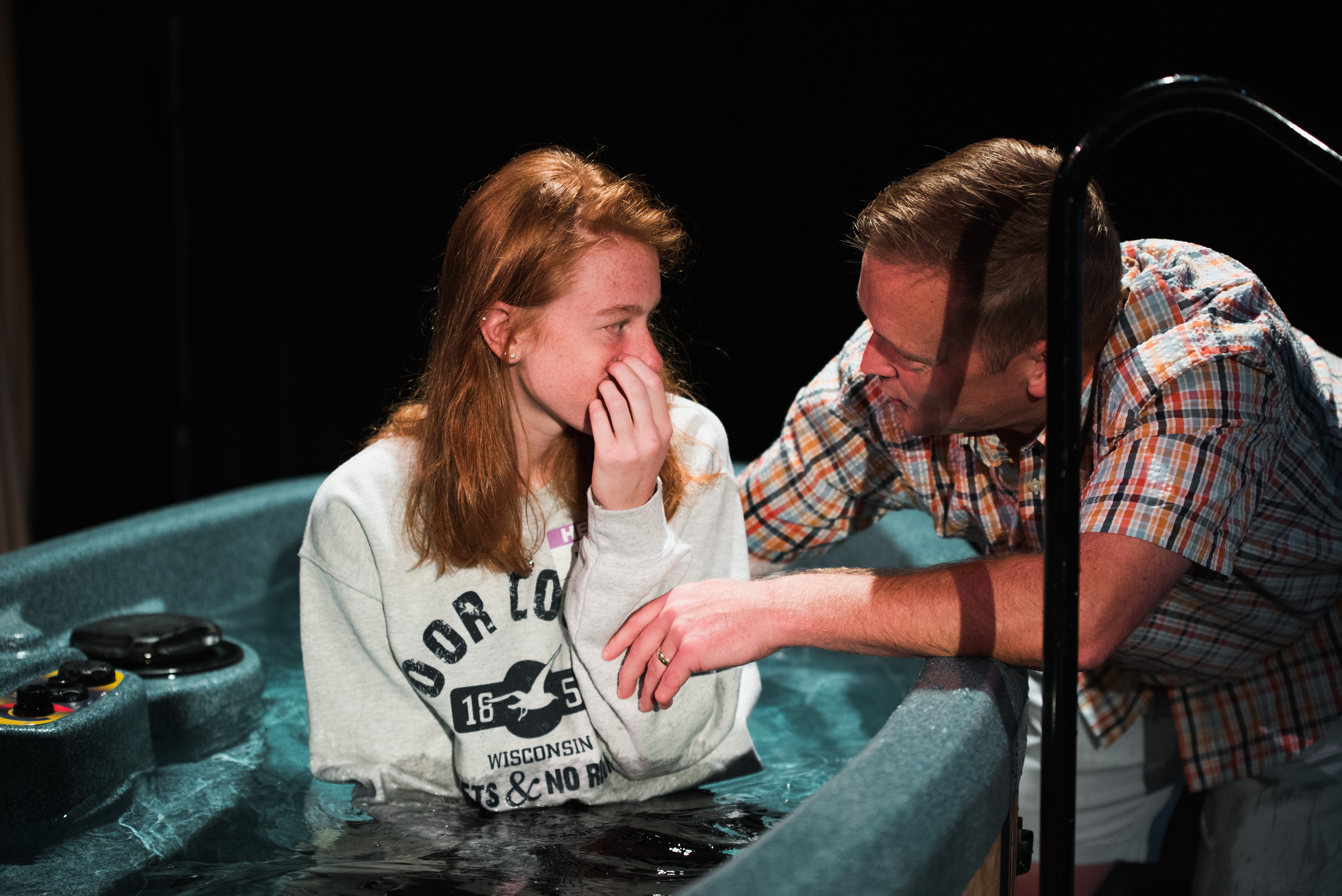 Liz Thayer told her boyfriend that she wanted to get baptized during the Green Bay Community Church 8:15 a.m. service on Oct. 8. So when she didn't go forward her boyfriend asked, "Why not?"
Her reason was that she wanted members of her family to be there. So her boyfriend said: "Call them up and we'll stay for the second service."
So Liz made some calls and her grandma was able to attend the 10 a.m. service when she got baptized. That was meaningful because Liz lived with her grandma permanently beginning at the age of 5 after the courts granted custody.
Liz had been baptized once before in kindergarten but didn't really understand why. She asked Jesus to be her savior in third grade at a revival meeting and wanted to publicly acknowledge her faith, this time through a meaningful baptism experience.
"It's really exciting," Liz said. "Every time we have baptisms (at Community Church) I end up in tears. God's there. His presence, I can definitely feel it. I knew it was a step that had to be taken."
At age 14 Liz was listening to a speaker and came to the realization she had to forgive her parents. "I broke down crying and had to leave the room," Liz said.
She wound up writing a letter to both her mom and dad, who were never together after her birth.
In the letter to her father Liz told him she wanted to get right with God and apologized for being angry at him for being absent in her life. That led to a meeting with her dad for the first time in nearly a decade and a reconnection. "My dad and I are really close," she says now.
Liz said that God's presence in her life has sustained her through her childhood difficulties, which included bullying and depression.
"I definitely wouldn't be where I am without God being in my life and all the people who have impacted my life," Liz said. "There were a lot of amazing people I met who had similar situations. They were like: 'I made it through this with God's help, so can you.' I grew up with God being in my life and don't see it without him."
Liz is a sophomore at UW-Green Bay and is studying social work while working 40 hours a week at Starbucks. She started attending Community Church about two years ago and has gotten involved in the high school ministry, where she helps lead a small group of freshman girls.
"I get excited about being able to talk with the girls," Liz said. "I know what it was like when I was a freshman. It would have been really cool for me if I had someone like that when I was their age. I always wanted to be involved in youth ministry. This is the best thing ever."
Liz claims Ecclesiastes 3:1 as her life verse: There is a time for everything, and a season for every activity under the heavens.
"I've gone through a lot with my family and everything," Liz said. "It's just always encouraging to hear that in the back of my mind.
"Everything has a purpose. I don't always know what it is, or why God put me through this situation. But I know it has a purpose. There's a lot of 'I don't knows' in life but God always works it out."