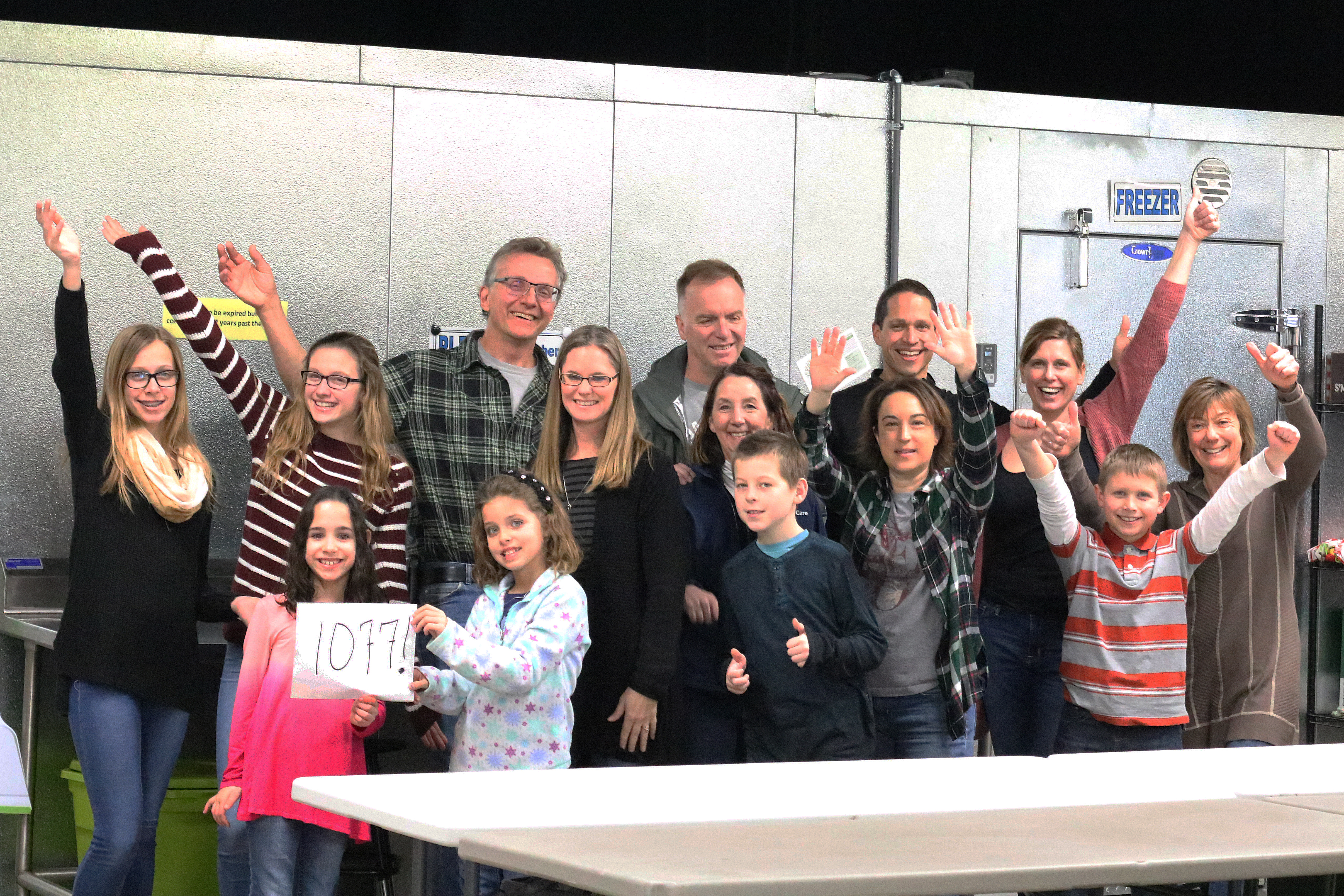 A new attender to Community Church on Sunday, Feb. 18 was puzzled when she drove into the parking lot and was greeted by a sign that read: "Leave your meat behind your car."
"I drove in and saw the sign and thought, 'That's kind of odd,'" the visitor said.
Odd for a newcomer, but awesome when she found out what the meat sign was all about.
It was Community Church's Meat The Pantry Day, in which GBCC attenders were asked to bring frozen meat to stock The Giving Tree food pantry shelves. They responded in a big way, with 1,077 pounds of meat donated to surpass the goal of 1,000 pounds.
"It was awesome," said Angela Klumb, The Giving Tree food pantry supervisor. "We got a lot of donations. We had a lot of great volunteers. Kids were helping. And a lot of GBCC members were helping."
Donors brought in frozen packages of beef, chicken, turkey, pork, fish and venison and left the items behind their cars, where volunteers picked up, sorted and stocked The Giving Tree shelves.
The donations arrived just in time for the monthly Pantry Day on Wednesday. Feb. 21.
The Giving Tree food pantry serves families in the Howard-Suamico school district. In December a total of 12,000 pounds of food was distributed to 200 families, including 400 children.
Typically the pantry doesn't receive meat donations.
"It is such an expensive part of the food budget," said Janette Adamski, the GBCC GO coordinator. "I know families will appreciate this. The freezer looks beautiful this morning."
The Giving Tree set up its food pantry in the Community Church Care Center in August 2016. The partnership between GBCC and The Giving Tree is working well.
"It is the hands and feet of Jesus, honestly that's what I see," Janette said. "I see us extending ourselves into the community, outside our walls. We are welcoming families and just loving on people. And then loving our volunteers, getting kids involved — that was fun (on Sunday)."
GBCC GO Director Tricia Murphy is hoping Meat the Pantry Day will raise awareness for needs in the community. "There are people that still walk through the Care Center and say, 'I didn't know we had a food pantry,'" Tricia said. "People can donate any time to the food pantry."
Meat the Pantry will be one of two large pantry drives this year, with the other one taking place in July to encourage donations of paper products. Pantry Days for those in need of food are held on the third Wednesday of every month, although emergency requests in between are also handled.
"We just know we're touching lives, doing what God has called us to do," said Janette. "The Bible talks about serving the poor so often. It touches me to see families come in. I see they make friendships. It's becomes a community place. It's really beautiful, a beautiful part of our church."