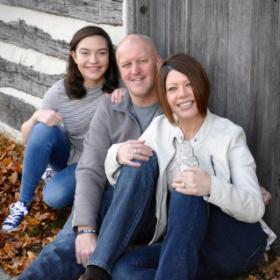 Even though Mike Price and his family moved away from northeastern Wisconsin nearly seven years ago, he still holds a soft spot in his heart for Green Bay Community Church.
Mike serves as the area director for the Fellowship of Christian Athletes in south central and southwest Wisconsin, and he points to his time at Community Church from 2008 to 2012 as an important part of his faith journey.
"We grew at GBCC," said Mike, who is a Green Bay West graduate and still returns to the area on a regular basis. "It started the process for Sheila (his wife) and I to mature in our faith. We found a lot of the teaching we could apply in our daily lives. It set the stage for where we're at now.
"Sheila and I were really drawn to the relational experience that is fostered within the church. I really enjoy how Troy (Murphy) delivers the message in a way that draws people in and tells a story in a way that puts you at the scene of the bible passage he is citing."
Mike was a teacher and track coach while in Green Bay before moving to the Janesville area for another teaching job. It wasn't until he left that Mike realized how good GBCC was for his family.
"We were spoiled," Mike said. "It took about three years to find a church that really matched."
On one of his return visits to GBCC in 2014, Mike got baptized on Easter Sunday.
"It's a huge leap of faith to do that," Mike said. "You are getting up in front of a lot of people, your vulnerability is being exposed. But in that moment you are with Christ. It was an intimate moment and I was saying that I'm going to walk with Christ. That's who's going to guide me."
A significant health scare in 2015 prompted Mike to transition out of the teaching profession. "My priorities were not where they needed to be," Mike recalled. "I was putting work first, then my family, then God was third. I had to assess my priorities, stop and realign and put God first. That changed what I wanted to do."
After taking a discipleship class at his local church and assessing his purpose, talents and spiritual gifts, Mike felt God pointing him toward the Fellowship of Christian Athletes in 2017. He found a position available and went through a rigorous interview process that culminated in a job offer in the summer of 2018.
In taking the job, Mike said he was putting his trust in God because he is required to raise 100% of his support.
"Sheila and I were in agreement, we both knew God had His hand in this and this is what He called me to do," Mike said. "He's not going to call me to something and leave me hanging. I'm fully surrendered to him. I don't have a lot of control. I have to pray for God's provision and direction."
Mike said the mission of FCA is "to see the lives of Christian athletes transformed through Jesus Christ."
Mike still serves as an assistant track coach at Deerfield High School. He also gets to watch his daughter Meghan swim at Milton High School, where she is a junior.
In his role with FCA, a territory that spans 17 counties in the southern part of the state, Mike gets to work with both coaches and athletes.
When speaking with young people, Mike has an overriding theme. "I want them to realize that their gifts and talents come from God," he said.
Mike is excited about the chance he gets to tell young people about the value of having a relationship with Jesus. He also enjoys listening to their stories.
"People's transformation gets me excited," Mike said. "This is what I want to do. I want to share those experiences with others."
If you would like to support Mike's work with FCA: https://my.fca.org/donation?name=mikeprice