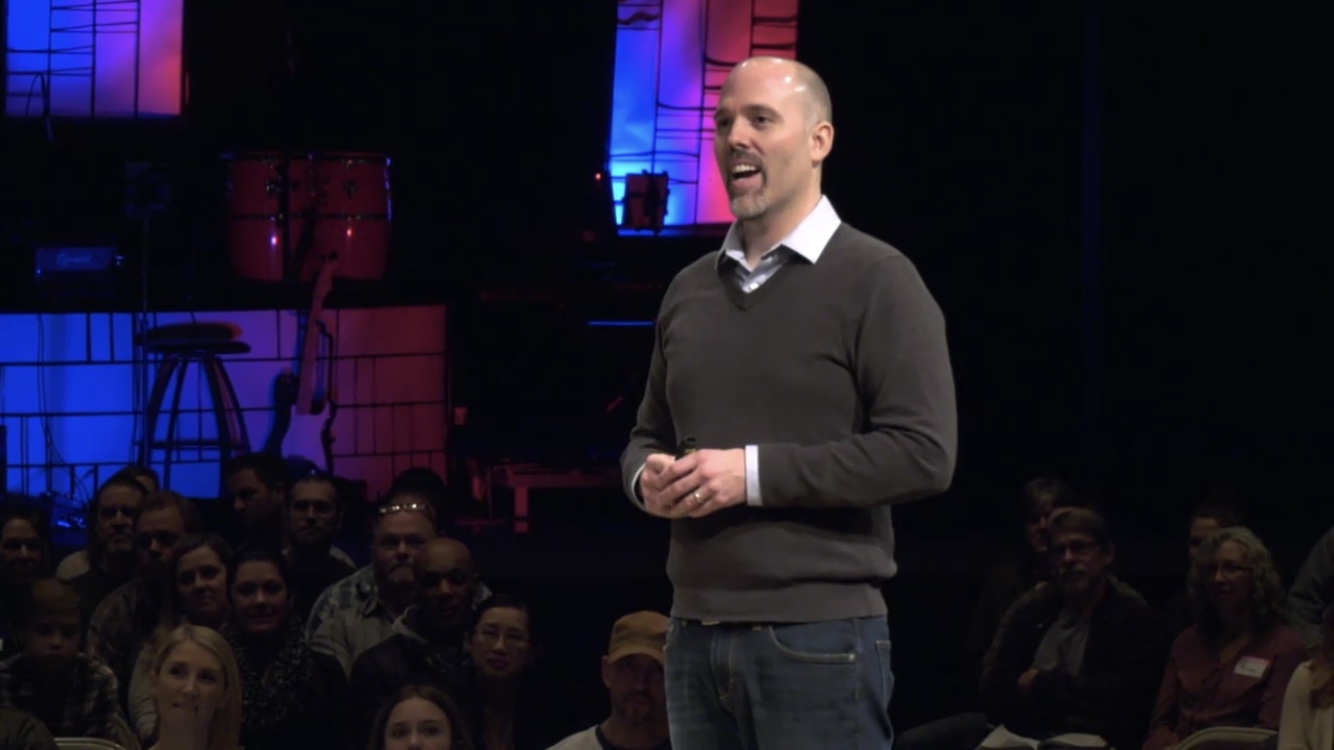 When Jesus was baptized God proclaimed in Matthew 3:17: "This is my Son, whom I love; with him I am well pleased." God gave his blessing to Jesus before he performed any miracles or did any of his earthly ministries. God gave his approval not for what Jesus did but for who he was.
In the same way, God loves us for who we are, not for what we've done for him.
In his message on Sunday, March 11 at Community Church guest speaker Kelly Flanagan, a Christian author and clinical psychologist, asked this question: If you came face to face with God, what would He say to you?
Kelly said that for much of his life he had the idea that God would say to him: "Kelly, I'm disappointed in you. You can do better. You can do more."
Kelly determined that was the voice of shame and not the voice of God speaking. What God would say to each of us in a face-to-face meeting is: "You are my beloved son or daughter on whom my favor rests. I am especially fond of you. I have never quit being fond of you."
We were all created in the image of God and are inherently worthy. We don't have to prove our worthiness. There's a little kid in all of us that needs to receive a love letter affirming our worthiness. We need to be reminded of who we are, created in God's image.
Here are other key points from Kelly's message:
*Guilt and shame sound alike but are opposites. Guilt is a sense that we've done something wrong and need to correct it. It speaks to the fact we are all sinners and are guilty before God. But there's a big difference between "I've done something wrong" and "I am something wrong." The latter stems from shame, where we believe we should hide ourselves away and disconnect from our sin so that no one else sees it. We are mired in a sense of brokenness and shame.
*Shame continually tells us we are not good enough, smart enough, attractive enough, successful enough, powerful enough, strong enough. This feeling of not being enough, according to studies, is universal among humans. The fact is, in and of ourselves, we will never be enough, but in Christ we are more than enough.
*We search for a sense of worthiness in relationships and accomplishments. We search for love and acceptance. We seek this from friends, teachers, spouses, co-workers, bosses, strangers on street, etc.
*The most common reason we get married is that we are searching for worthiness in another person. Most think the search ends on our wedding day because our spouse makes us feel lovable. But marriage can't bear the burden of the search for worthiness. No relationship can.
*In searching for worthiness in our accomplishments, we seek influence, impact and significance. By making a name for ourselves, we think we will matter. The fact is, when you have been deemed good and worthy by God, you already matter and are significant by living, breathing and being awake.
*Kelly gave a personal example about his search for worthiness. He went to college and got a 4.0 GPA but on graduation day still didn't feel worthy. He went off to graduate school but after receiving his PhD experienced his first major bout with depression. He got married, thinking that would make him feel lovable, but he didn't find fulfillment in that. He ultimately discovered that his search for worthiness could not be found in any of these "outward" searches.
*Kelly got to the point where he couldn't go another day blaming everybody else for his sense of unworthiness. He prayed to God, who in a gentle whisper told him that he was loved for who he was, and that he didn't have to strive for worthiness. It was as if a great weight was lifted from Kelly's shoulders. When you have been exhausted by the shame of unworthiness, according to Kelly, the lifting of that burden can be pretty euphoric.
*Following that mountaintop experience, Kelly said coming back to everyday life will bring you back to feelings of shame. In those times you must listen to the voice of God and his grace. When the voice of shame comes, you welcome it but say: Today I will listen more closely to the Holy Spirit's voice of grace within me.
*The voice of shame will tell you that you're not cool enough, popular enough, and that you don't fit in and never have. Kelly heard that voice but then listened to God's voice and heard these words: "You're not the cool kid, you have never been the cool kid, and you are beautiful and beloved. You will never make as much money as that person, you are never going to be as attractive as him or her, you are never going to be able to do the things you used to do, and you are beautiful and beloved. You might have failed at something or made a mess of a project, but God's voice will say: I'm proud of you for trying.
*How do we heal from the voice of shame? By listening more closely to the Holy Spirit's voice of grace. Create a space in your life where you can stop looking for your sense of significance outside yourself and instead listen to God's still, small voice which tells you that you are worthy for who you are, right where you're at.
Discussion questions
Explain how the voice of shame has impacted your life.
What are some outward things you have searched for to find a sense of worthiness?
What do you think God would say to you in a face-to-face meeting?
How can you take steps to listen more closely to God's voice of grace?
What are some ways God's Holy Spirit has brought healing to you?