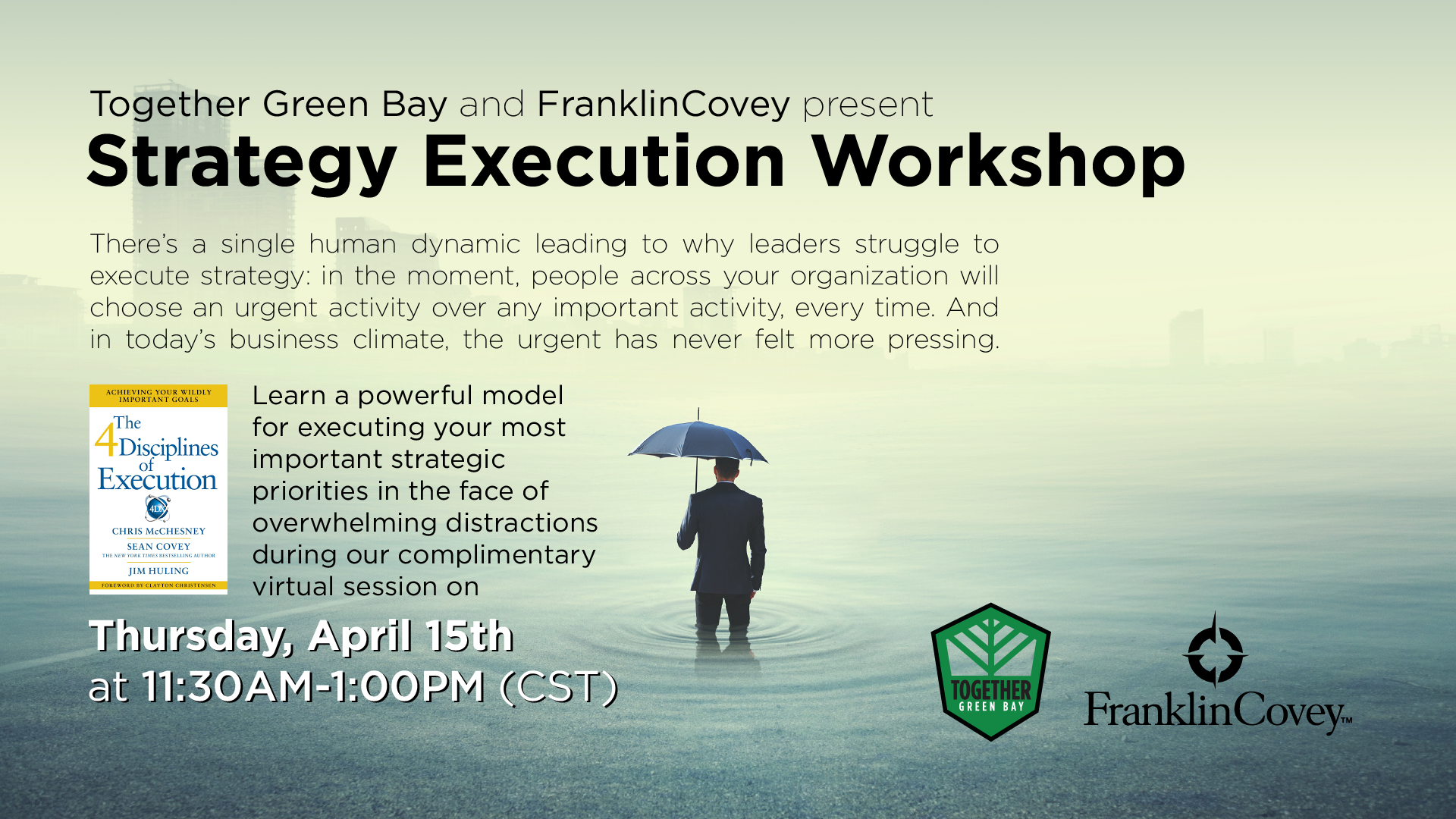 Thursday, April 15, 2021
,
11:30 AM - 1:00 PM
Join us for an upcoming Strategy Execution Workshop sponsored by Together Green Bay in partnership with FranklinCovey. Learn a powerful model for executing your most important strategic priorities in the face of overwhelming distractions during our complimentary virtual session on Thursday, April 15th from 11:30 a.m.-1:00 p.m. Register for this workshop here: http://bit.ly/StrtExWrkshp
There's a single human dynamic leading to why leaders struggle to execute strategy: in the moment, people across your organization will choose an urgent activity over any important activity, every time. And in today's business climate, the urgent has never felt more pressing. The 4 Disciplines of Execution® enables leaders to consistently deliver breakthrough strategic results despite the relentless pull of urgency and uncertainty. This process has been implemented in over 3,000 organizations to achieve significant impact to revenue, cost, margin, customer/patient satisfaction, lives saved, quality, etc.
Join experts from FranklinCovey and fellow Together Green Bay members for this complimentary live-online executive workshop where you will experience:
A model for defining "Breakthrough" strategy execution opportunities
Identification of common strategy execution traps and how to avoid them
A system for consistently moving the "Performance Curve" of your organization and delivering Breakthrough results even amid competing priorities and day-to-day urgencies
A simple tool for measuring the real-time pace and momentum of your strategy execution
Register for this free workshop here: http://bit.ly/StrtExWrkshp