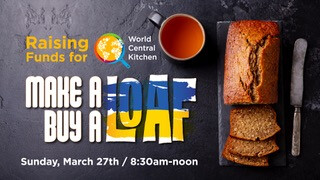 Sunday, March 27, 2022
,
8:00 AM - 12:00 PM
In response to what is happening in our world right now, we have come up with a bread bake sale fundraiser to support Ukrainian refugees. Since we have learned through our Sunday morning breakfasts that feeding people creates community, we will be raising funds for World Central Kitchen, who is serving thousands of fresh meals to Ukrainian families fleeing home as well as those who remain in the country.

You can make a loaf of specialty bread (or several) and drop it off at Green Bay Community Church on Saturday, March 26 from 10-noon or Sunday, March 27 at 8am. We will sell the loaves on Sunday, March 27 from 8-noon for $10 each. Our goal is to receive and sell 300 loaves. All proceeds will go to World Central Kitchen.