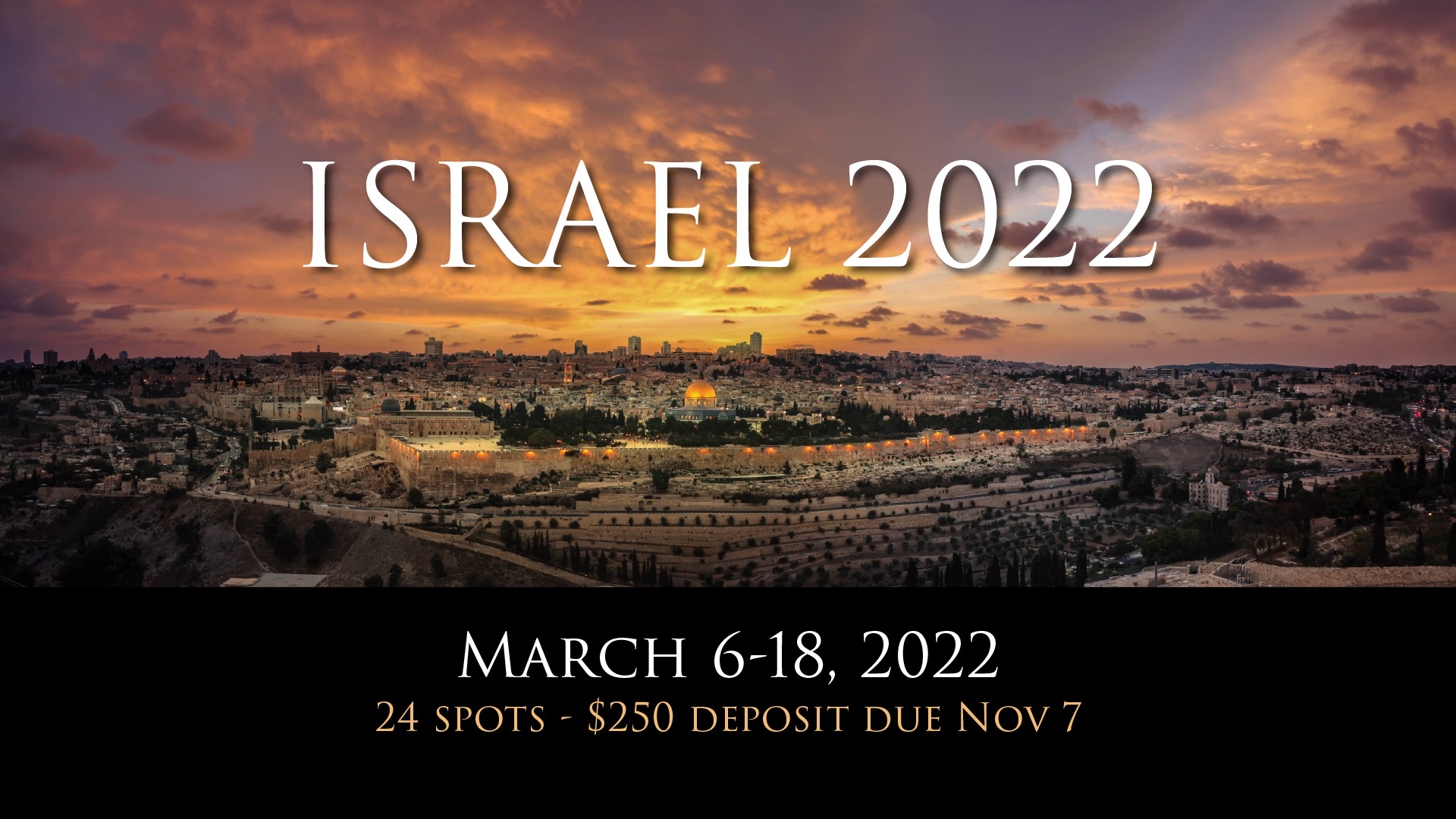 Join Troy & Tricia Murphy and Pete & Sheri App on a trip to Israel March 6-18 2022. A total of 24 spots are available with an initial deposit of $250 due by Nov. 7. The trip includes:
--11 Nights Hotel as follows:
*1 Night Tal By The Beach, Tel Aviv, Israel
*3 Nights Ramot Orchard Holiday Village, Sea of Galilee Overnlook, Israel
*2 Nights Daniel Hotel, Dead Sea, Israel
*5 Nights Prima Kings Hotel, Jerusalem
--22 Meals: 10 Breakfasts, 1 Lunch, 11 Dinners
--10 Days Sightseeing per itinerary
--Headsets for enhanced experience
--Arie Mizrachi guide
--Package Does Not Include:
*Gratuities ($150.00 per person due prior to departure)
*Lunches during tour (Except St. Peter's Fish)
*Travel Protection/Insurance (Strongly Recommended). Travel Protection (Insurance) premiums are not covered by the initial deposit. Insurance premiums may be paid at any time prior to or with final payment and become effective on the date payment is received. See https://www.gate1travel.com/insurance/·
Questions? Join us for an informational meeting at 10:30 am (immediately following worship service) in the office meeting area on one of these dates: September 26, October 3 or October 10.
MORE INFORMATION & REGISTRATION
Israel FAQ
Isn't Israel a long way away?
Not nearly as far as you may think: just 10 hours from New York (it's quicker to fly from New York to Israel than from New York to Hawaii!), or 14 hours from Los Angeles. There are about 10 nonstop flights a day from North America to Israel, on Air Canada, American Airlines/US Airways, Delta, El Al Israel Airlines and United. Plus you can connect to Israel through dozens of European cities.
What documents do I need to travel to Israel?
For U.S. and Canadian citizens, all you need is a passport that's valid at least six months longer than your date of arrival in Israel. (For stays up to three months, you don't need a visa.) If you're not a U.S. or Canadian citizen, the same conditions apply to citizens of most western countries.
Is it safe to travel to Israel?
We wouldn't urge you to come if it wasn't. Every year between 3 and 4 million tourists vacation in Israel – and apart from those who fall in love with an Israeli – or with Israel – they all go home again safe and sound. The planes of 90+ airlines wouldn't fly to Israel if it weren't safe.
What about health, medicines, vaccinations?
We believe that vaccinations remain paramount for the safe resumption of tours. We require all travelers complete a health declaration form and attest they have been fully vaccinated for COVID-19. This requirement will remain in place until guidance changes from health organizations and governments. Travelers who cannot comply with the vaccination requirement because of age or medical condition must receive a negative test prior to joining their tour, if the government(s) for the destinations on the itinerary allow it. Additional requirements may exist based on your itinerary and enforced by other entities such as airlines, government agencies, etc. Travelers will also need to follow federal and local mask mandates, social distancing, and other guidelines while traveling. Our tour managers and bus drivers will adhere to a stringent sanitation protocol throughout the tour.
Israel is an ultra-modern country with the world's highest number of doctors per capita, and a health and hospital system that is the envy of the world. You can buy most standard over-the-counter equivalent of North American drugs in Israel. You can also bring supplies of your standard prescription drugs with you. (If you need to bring syringes and vials of medicine – bring along a letter from your doctor attesting to your needs, just in case.) If you need to see a doctor in Israel, check with your hotel concierge. Travel insurance (including medical coverage) is always recommended for all foreign travel.
What to wear?
Like almost everywhere in the world, casual is the "rule" for everyday sightseeing. Bring good walking shoes or sneakers and "layers." Israelis (especially women) like to be "elegant casual" on evenings in Tel Aviv and Jerusalem. Some religious shrines require modest dress (arms and legs covered, and, occasionally, no pants for women). Don't forget your swimsuit and, for the Dead Sea, plastic shoes or aqausox.
What about money?
The Israeli currency is the Shekel (officially "New Israeli Shekel"), worth around 30 cents. On arrival in Israel, it's a good idea to use your bank-card to withdraw some Shekels from the ATM in the arrival-halls at Ben Gurion Airport - or change small amounts of dollars/or travelers' checks at a bank or your hotel. There are ATM machines all over Israel and credit cards are widely accepted.
Electricity
Almost all hotel rooms are equipped with hairdryers, and all have shaver sockets. For other appliances, Israel's electricity is 220V A/C, single phase 50-cycles; 110V-220V transformers can be used. Israeli outlets have three prongs, but European two-prong adapters usually work. If you don't have an adapter that seems to work, call the hotel's front desk or visit a hardware store.
Keeping in touch
Most hotels have free wi-fi in the lobby, and some hotels provide it free in the room. Many hotels also have Business Centers where you can access e-mail and the internet without charge. American cell phones that work overseas will work in Israel too. Israel is 6 or 7 hours ahead of the East Coast of the USA depending on the season. Our bus will have wifi also.
Temperatures
Temperatures can vary widely so just pack for the "right" weather and you'll be fine. Seasons overlap of course, but general guidelines are:
(late Mar/Apr/May/late Sep/Oct/Nov): Daytime temperatures will be very pleasant: 75º-ish in most of the country (but hotter at the Red and Dead Seas). Jerusalem will be in the 70's, 50's in the evening. There'll be some rain - nothing torrential.