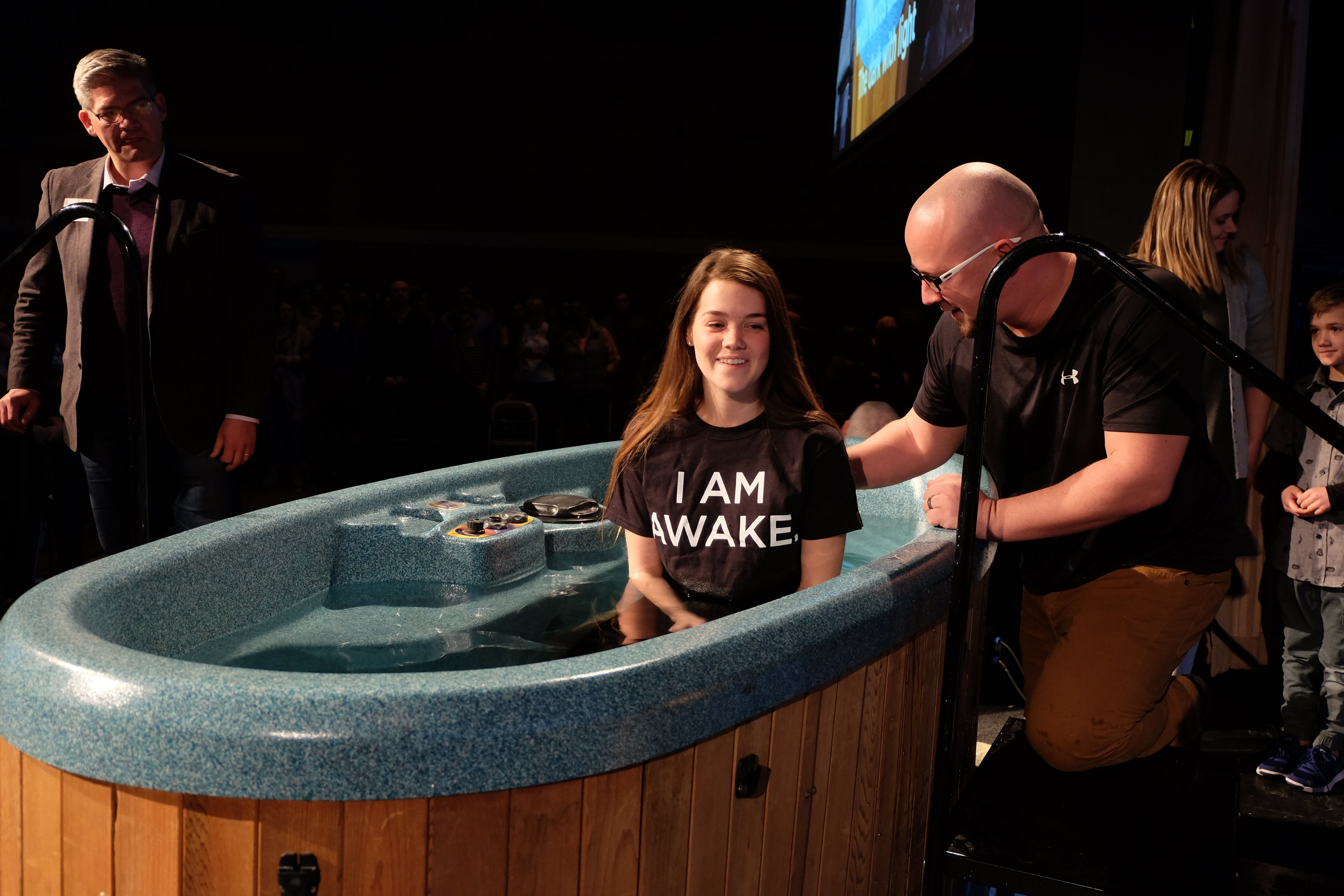 Carissa Trepanier never gave baptism a serious thought until she started examining the scriptures.
"Even Jesus himself was baptized," Carissa observed. "There's something beautiful about imitating Jesus' life and death through baptism."
So Carissa came forward on Easter Sunday in 2018 at Green Bay Community Church to get baptized, even though she was singing on the worship team that morning.
"It wasn't my plan, but something inside me told me that I should be brave," Carissa said. "There's never a time where I will be perfect and ready for this, but it's a sign that Christ is perfect in me."
Carissa grew up attending church but it wasn't until she got involved in Campus Crusade (CRU) during her sophomore year in college at St. Norbert that she started taking her faith seriously.
"I dug into the Bible outside of the church setting," she said. "I gave my life to Christ after reading scripture and being mentored and talking to people from all different denominations."
Carissa started attending Community Church while in college. "I realized my heart was really getting filled at GBCC," said Carissa, who graduated from St. Norbert in 2017.
"I learned that I can't earn the right to be baptized," she said. "I simply had to look at Christ's sacrifice, believe in it, believe He is coming again and truly understand and accept Christ's love for me personally."
Growing up, Carissa thought she had to earn God's favor.
"I believed if you do enough good things Christ will accept you and you are worthy of love," she said. "Through digging into the Bible and being mentored I learned that we are sinful as human beings and Jesus died so that I could accept him. If I could earn my way there then Jesus wasn't necessary."
Carissa hopes to use her baptism experience as a catalyst for talking with others.
"I would love to use my role with helping high schoolers to develop conversation around a relationship with Jesus," Carissa said. "I'd love to have conversations over coffee to talk about life and the beauty of Jesus' love that surpasses all else."
Carissa wants others, particularly young people, to know that you can experience joy and have fun following Jesus. "Sometimes there is a stigma that we need to look spiritual in order to be spiritual," she said.
Carissa likes the idea of being surrounded by a spiritual family.
"The beautiful thing about baptism is that it's a sign for me and others around me that we want to help each other become more holy," she said. "So now I have a community of believers who know this is my goal and I know that they will help me."
An international studies program in college sparked Carissa's desire to experience different cultures. Her career goal is to become an international higher education admission counselor.
Carissa was part of a team of GBCC musicians that performed at a Brazilian music festival in early 2018.
While Carissa has attended GBCC for four years, she is still learning about the numerous activities that are available for people to get connected.
"I'm pleasantly surprised and pleased with how many programs there are outside of a Sunday," she said. "It proved to me that people are the church instead of the building. The building can be used for many things, but it's really a community of Christians that make up the church."