Five families formed Green Bay Community Church in 1968 with Leonard Hale serving as pastor. After being led back to Dallas to work in ministry in 1972, Pastor Hale's vacancy was filled by the late Ted Bazett-Jones. About 40 people attended regularly through 1983. Read an account of the formation of the church by one of the original attending couples, Tony and Pat Folk: GBCC early history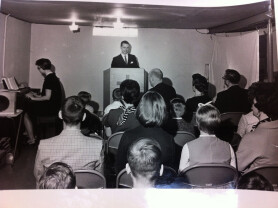 In March of 1983, small group studies became a core program of the church and Joe Urcavich was called to leadership as Community's Senior Pastor. In 1987, with a congregation of 175 people, a new building was built on Old Shawano Avenue on the expanding northwest side of Green Bay.
In 1991, with 475 in attendance, an addition was added to the building as the congregation continued to grow. Additional pastoral staff members were also added. The ministry grew to 1,200 before moving to the present building and location in February 1997. The building is situated on 31 acres of land and was designed to expand in three phases. Phase II was added to the building in 2000, with its completion in 2004.
Pastor Urcavich retired in 2009 and Lead Pastor Troy Murphy was confirmed on July 12, 2009.