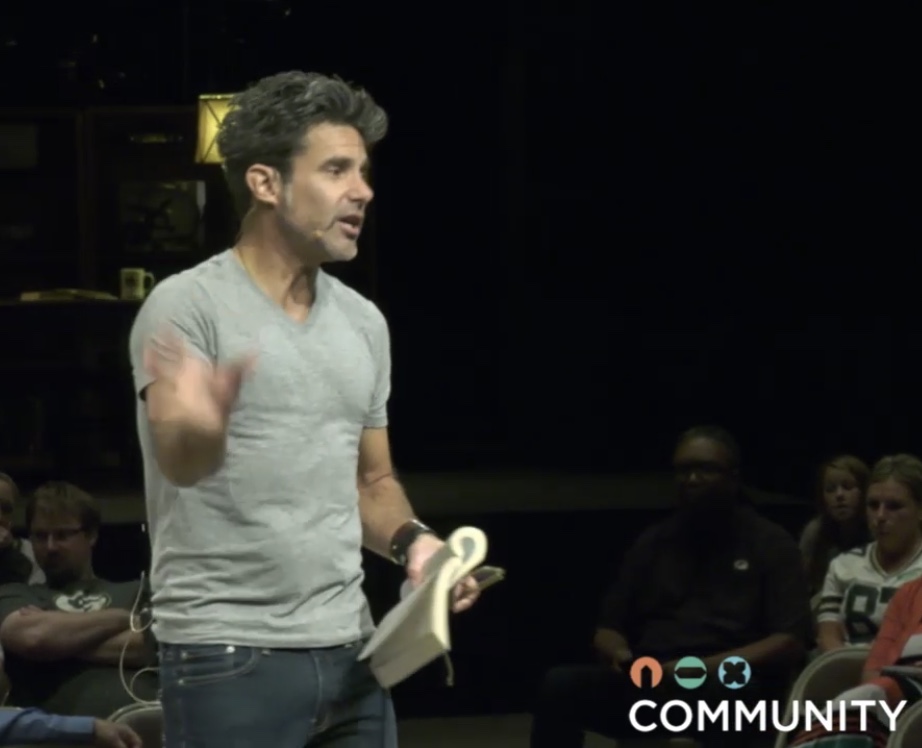 There is not one right way to pray, guest speaker Justin McRoberts said during his message on Sunday, Sept. 23 at Community Church.
Justin hails from the San Francisco bay area and is an author, singer and songwriter. He said we have certain expectations for prayer and when they aren't met we feel like we might not be praying correctly. In fact, you're not going to get prayer wrong.
Here are some other key points from Justin's message:
1-Life can get noisy, and when we pray we sometimes talk because we want to hear things we don't think anyone else will say. Sometimes we need to stop talking and listen to the voice of God when we pray.
2-One practice to help us become better listeners in our prayer life is called Lectio Divina, which means "to listen to/for God." Read a passage of scripture, then read it again and pick out a phrase or word that jumps out at you. Read it a third time and say the phrase or word out loud.
Often what jumps out at you is something that God has already placed in your mind or heart. Before you arrive somewhere or at some Bible passage, God is already up to something.
3-How do we know we are listening to God? We do what God says. If your life looks like Christ, you are doing what God says.
4-In Acts 8:26-38, we find that Philip is a good listener. God tells him to "go south" and instead of asking for more details, Philip goes south. Usually we want the whole plan laid out for us, but God often doesn't give us the details. That way we rely on him instead of on our ourselves.
Philip follows the first instruction before receiving the second. And the second involves listening. We need to become a better listening culture.
Our job is never to deliver the word of God. We are to show up and listen to what God is doing and witness to the works of God. He's there at work already.
5-Prayer doesn't always look the same. The way you prayed in your teens can't be the way you did in your 20s, 30s, 40s or 50s. Your seasons of life change and so the way you talk to God changes. Healthy relationships change and evolve and grow.
6-The practice of prayer should not focus on the mechanics or your posture or how you do it. The heart / essence of prayer is not your ability to pray; it is the love of God. The focus should be on hearing from the voice of God, who tells you: You are mine, I love you, I'm proud of you. This is the heart of prayer.
7-Prayer is a two-way communication. We talk to God but we also listen. Position yourself to listen to God and not always keep talking to fill space.
Discussion questions
What would it look like for you to carve out time and listen to God?
What could you change in your devotional practice in order to listen more to God?
Do you have the courage to be persistent in listening to God, even when you aren't hearing anything?
Is there someone's story you need to pay attention to in your life — similar to Philip in Acts, what chariot must you stand near and listen?
What kind of sacrifice of your time will be required to listen to God?