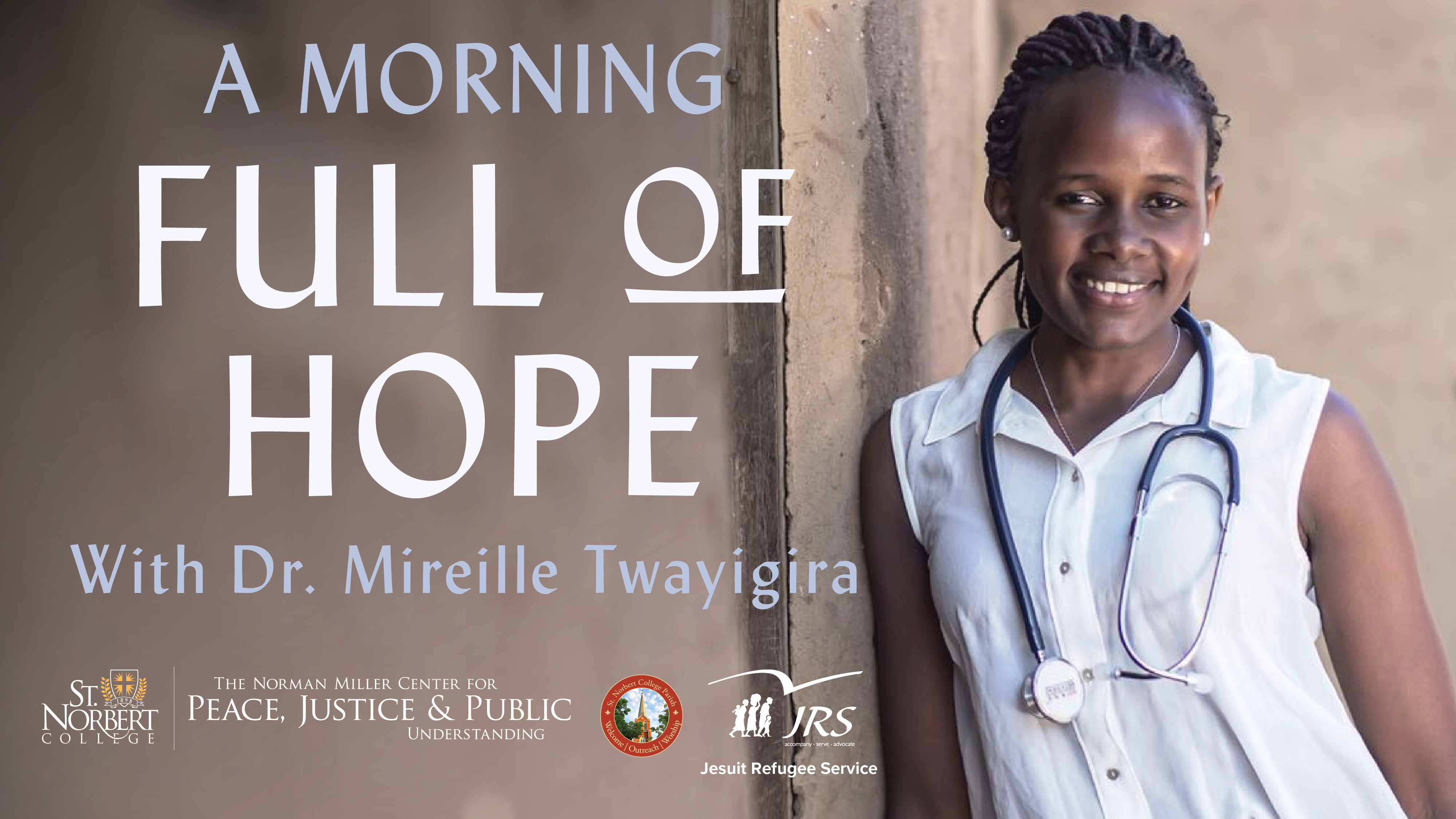 An act of kindness changed the course of Dr. Mireille Twayigira's life.
"I don't know where I would be today if that hadn't happened," Dr. Mireille said during worship services at Community Church on Sunday, April 7.
When she was a little girl Mireille endured the death of her father, mother, sister and grandmother and was a refugee in Eastern Africa with little hope for the future.
That's when a family friend who goes by the nickname 'Momma S' stepped in to help.
"This lady is a guardian angel," Mireille said. "She's been there at every point of my life."
Momma S herself was a refugee with very little financial stability, yet she wanted to help Mireille and her grandfather make a better life for themselves.
With Mama S's help, Mireille was able to leave the harsh conditions of the refugee camp where she lived, attend better schools and eventually beat the odds of only 1% of kids like her attending a university.
"School meant hope for us as refugees," said Mireille, who was a top student and earned a scholarship to attend a university in China.
It was at that point in her life that Mireille discovered God's love.
"Up until China there was brokenness and hurt in my life," she said. "The more I went to church, I received love from people. I began to see God was sending people to love me. It really changed the way I saw myself.
"Before I didn't see myself as someone who could share hope. But knowing the love of God changed everything."
Now, Mireille wants refugees to know there is hope and a way out through education. She also wants people to see God in her life.
"I am thriving because of the chance I got," she said. "I want to share the love of God, which transformed my life."
Besides serving as a physician and helping refugees with physical needs, Mireille wants to address the mental health issues that accompany so much brokenness and trauma.
Mireille has served as an inspiration for others, both academically and spiritually.
One person recently came up to her and said: "Because of your story I see the word of God come alive. God says 'I am with you' and I know it's true."
Tricia Murphy, who serves as the Community Church GO director, interviewed Mireille during Sunday's services. Tricia said the story of Mireille's guardian angel is a good reminder that "one person can make a huge impact."
No one needs hope more than refugees, who often live in the midst of squalor and drug abuse and face a life of constant need and wasted talent, Mireille said.
Mireille works with Jesuit Refugee Services (JRS) to provide hope. The goal of JRS is to serve, advocate and provide education for refugees.
Helping refugees is answering the call of Jesus to love our neighbors.
"The calling God has is we love people who are wandering and marginalized," Pastor Troy Murphy said on Sunday. "How do we step alongside and love refugees this way?"
How can you make a difference?
*Tell others about the plight of refugees, using Mireille's story as a starting point.
*Find out how to help refugees in the Green Bay area. Contact COMSA (Community Service Agency), which helps Somali refugees and other immigrant communities in Northeast Wisconsin. http://comsausa.org/
*Pray!
*Determine how you can be a 'guardian angel' in someone's life and show them God's love.