Set Up Online Givingone-time gift LEGACY GIVING
Learning to give of what we have been given is a response of those who have come to know God personally and His great love. Giving generously is an act of worship that proclaims trust in God for future provision. 2 Corinthians 9:6-8, James 1:17-18, Deuteronomy 26:1-11, Psalms 24:1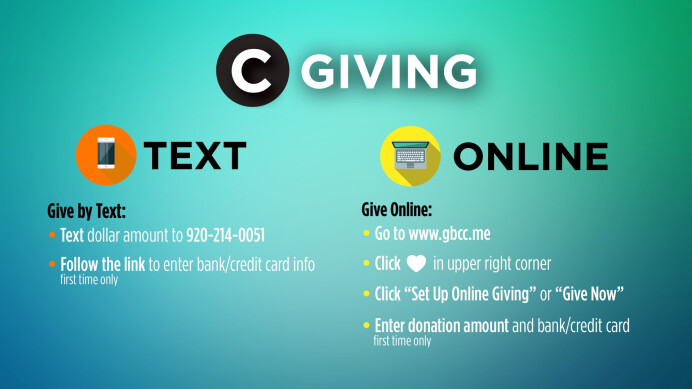 PROJECT NEEDS
If you would like to designate a gift toward a specific project, please make note of that with your contribution. (When contributing online select "other"). Here is a list of the highest priority projects and the cost:
*HVAC $43,900
*Carpet replacement $58,611
*Emergency Lights $4,620
*West Kitchen upgrades including Stove $9,220
*East Kitchen upgrades $6,740
*Security cameras and wiring $5,880
Green Bay Community Church is a non-profit 501c3 Charitable Organization as designated by the Internal Revenue Service. Tax ID 23-7054745. Contributions are tax deductible to the extent allowed by law. All transactions made through our website are secure.