Set Up Online Givingone-time gift LEGACY GIVING
Learning to give of what we have been given is a response of those who have come to know God personally and His great love. Giving generously is an act of worship that proclaims trust in God for future provision. 2 Corinthians 9:6-8, James 1:17-18, Deuteronomy 26:1-11, Psalms 24:1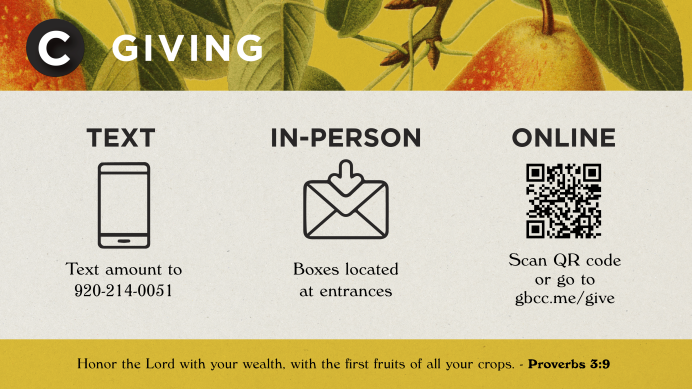 PROJECT NEEDS
If you would like to designate a gift toward a specific project, please make note of that with your contribution. (When contributing online select "other"). Here is a list of the highest priority projects and the cost:
*HVAC $43,900
*Carpet replacement $58,611
*Emergency Lights $4,620
*West Kitchen upgrades including Stove $9,220
*East Kitchen upgrades $6,740
*Security cameras and wiring $5,880
2023/2024 Budget
The 2023/2024 Proposed Budget goes into effect September 1, 2023. It is available now for review using the button below through August 15. Paper copies are also available in the church office at the reception area.

If you have any questions or concerns regarding the budget, email or contact LeeAnn LeDuc, Finance Director, or Jason Potts, Treasurer, .
Green Bay Community Church is a non-profit 501c3 Charitable Organization as designated by the Internal Revenue Service. Tax ID 23-7054745. Contributions are tax deductible to the extent allowed by law. All transactions made through our website are secure.